Ol' Savannah is a Montreal, Canada-based folk band known for its vocal harmonies and use of traditional Appalachian and Cajun instruments. The group has released five albums and two EPs, performed at a number of festivals, and toured in Canada, the US, and Europe.
Ol' Savannah's style has been compared to a mix of Tom Waits, Roscoe Holcomb, Muddy Waters, and The Pogues.
Co-founders Speedy Johnson and Bartleby J. Budde began writing songs together in 2009, highly influenced by blues artists, such as Mississippi Fred McDowell and Mississippi John Hurt.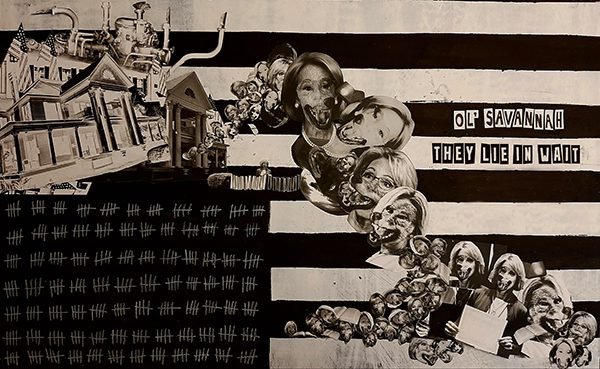 They Lie In Wait, a 17-track album, returns the listener to the movements and organizing efforts that have drawn attention and grown through and, perhaps, in spite of the pandemic. "500 Years" reflects on the birth of racism, colonialism, and capitalism. "Old Betsy's Got A Tail" is an indictment on Trump's Department of Education and on former U.S. Secretary of Education, Betsy DeVos, directly. 
Protest songs, old and new, the blues, and the unassuming cover song (Bob Dylan, Tom Waits, Warren Zevon) are a testimony to these continuing struggles, notably the Land Back and Black Lives Matter movements present across the greater part of Turtle Island, and the student protests against school gun violence in the United States of America.
Speedy Johnson (Ol' Savannah, Anticapital Records) and sound engineer/co-producer Kevin Moquin traveled to Ottawa, Gatineau, and within Montreal to record the voices of the next generation, those most affected by today's injustices – economic, ecological, and racial. 
"Which Side Are You On?" features backup harmonies from Ottawa vocal students Neeve Crichton, Meghan Findlay, and Addy Hartell. The Huginator (Hugo Maury from Gatineau) and Lucas Chavel (Montreal) join the youth backup vocals in the chorus of "Old Betsy's Got A Tail". "They Lie In Wait" is very much by, for, and of the children; it's dedicated to the next seven generations, if we're so fortunate.