Ah yes! The old topic of the home studio. This is a topic I am well versed in! Before deciding to create SongShop, I actually was going to give it a go at becoming a full time producer running my home studio. I had the privilege of working alongside some award winning producers and musicians when I was recording with my band, so I had some great mentorship! I took courses, read more blogs and articles than I can remember, and spent a shit load of money. I had a commercial studio setup in my basement – I'm talking all of the fancy mics, the preamps, compressors, monitoring solutions – ALL OF THE THINGS! And I'm here to tell you it is 100% not necessary. If you like having and collecting gear, I get it. But you don't need a $10,000 signal chain to make music from your house. Actually, if you cut that budget down by 75%, you can get yourself a really nice home studio setup to track demos. So let's get into it!
FIRST THINGS FIRST
I'm going to go through this assuming you won't be tracking real drums. If that is the case, you will need more inputs and pre amps then what I am going to cover. I will go over this home studio setup like you can play either guitar, piano, or a bit of both.
Before you start shopping, I highly recommend setting a budget. You will soon find out that $ just keep climbing to a point where you are feeling overwhelmed. If you spend $2500.00 you can set yourself up a very nice home studio. Keep in mind that this is including the purchase of a computer! If you already have a computer you could honestly do it for under $500 depending on what you need, so don't feel like you need to spend a small fortune!
What gear will you need? Let's summarize it:
A Computer – This MacBook is a great choice.

D.A.W. (Digital Audio Workstation)

A good vocal mic – This Warm Audio WA-47jr is my pick
A good workhorse mic – The Shure SM57 is the best choice!
An interface/preamps – We recommend the Focusrite Scarlett 2i2. See it HERE
A Keyboard/Digital piano – This 61 Key Controller is a great option.
Studio Monitors – I have recently downsized to these Presonus Monitors and they are great!
Studio Phones – I've used these ATH-M50X headphones for years – they are fantastic for the money!
Cables/Stands – This Samson stand and cable package is perfect.
THE BRAIN
The first thing you will need for your home studio is a computer! You will have to choose what direction you want to go here. This will ultimately be the most expensive part of your studio setup, and the most important. Do you want Mac or Windows? This is essentially a personal preference, but will really have an impact on price. 
The base price of a Mac is around that $1200 mark, and you can get a really high spec Windows computer for that price. Windows computers are always cheaper, but in my experience (I have tried both) Mac is just more stable when running things. There always seems to be little nuances and glitches with my PC. I also believe Macs have more longevity. The initial purchase price might be higher, but you might not have to upgrade nearly as soon. 
There are a few main things to consider when buying a computer for recording. Processor, RAM, and Disk Space. 
You will want to opt for at least an i5 processor, ideally an i7. The more RAM, the better. No less than 8gb in the RAM department. Audio recording is taxing on a computer, so it needs space to run multiple processes at once. When it comes to storage, bigger is better too. ESPECIALLY in a MacBook. It is super expensive to upgrade anything in a MacBook, so if you are ordering one, make sure you don't cheap out on RAM and Hard drive size. 
If you are going to run a desktop,  at least two hard drives will be needed. One for your local programs, and one for your file storage. I'm not going to go any further into the topic of computers –  that is a rabbit hole for another blog, or your local computer store!
PROCESSING YOUR SOUNDS
Once you have selected your computer, it's time to choose your software! This is your D.A.W. (Digital Audio Workstation). There are quite few options available, and each will have a learning curve, especially if you have never used a DAW. There are a range of free options, and what you choose might be influenced by your computer. There is no need to break the bank, there are tons of budget friendly options available. It might be tempting to go with a monthly plan, but this can get expensive over time. Each D.A.W. will come with enough processing effects (plugins) to effectively mix a demo. Don't bother spending money on plugins until you've exhausted the use of the stock ones. No matter how tempting it may be!
Great Free Options:
Garage Band (Mac)

Cake Walk (Windows)

Studio One

Pro Tools First
Some great paid options for a DAW:
Presonus Studio One

Logic Pro X (Mac Only)

Harrison Mixbus

Reaper

Pro Tools…. If you Must
VOCAL MIC
This should be a large diaphragm condenser mic (LDC). You can pick up a nice used LDC for around $200. Some good brands are; Rode, Audio Technica, Aston, or AKG. Anything by these brands will get you great results for a demo. If you want to splurge a bit, I would opt for one of the Warm Audio clone mics. These guys make great gear for an awesome price!
A LDC mic can be used for many applications. Actually, depending on what you want to do it might be the only mic that you need! They can be used for vocals and sound great on anything acoustic (guitars, strings, mandolin, banjo). If you want to record in stereo, grab two of the same mic. You can record entire drum kits with just two of these if you use the proper mic techniques.
The downside to a condenser mic is that you need to have very quiet recording conditions. Any outside noise (traffic, footsteps, slamming doors, HVAC systems) will be picked up in the recording. These can be minimized by using isolating shields, building an isolation booth, or just recording during a quiet time of the day.
If noise is going to be an issue, you might opt to go for a dynamic mic. For tracking vocals, a Shure SM7B is a great mic!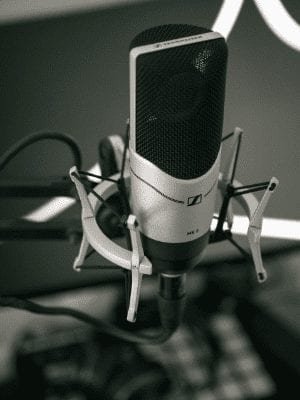 YOUR WORK HORSE
Work horse? I'm talking about something that can be used on basically anything you throw at it. It's always good to have one of these lying around. These can be a  lifesaver in your home studio. A mic like this can be used to mic up a guitar cab, snare drum, strings, acoustic guitar, or even vocals in a pinch. Having two of these around enables you to record in stereo when needed. For this a Shure SM57 is the go to. The thing is basically an industry standard – if you can find a pro studio without a drawer full of them, you let me know! 
HONOURABLE MENTION
If you are regularly recording acoustic instruments, you might want to opt for a pair of pencil condenser mics. These work very well for recording stereo tracks on guitars, pianos, strings, and are amazing for drum overheads. A pair of these with your kick and snare mic'd up is all you need for basic drum tracking. Some might even say it's all you need to get a finished drum sound!
YOUR INTERFACE
So now that we have our microphones, we need a way to get the sound we capture into the computer! This is done via an audio interface. Depending on what system you run (mac or windows) it might influence the interface you choose. 
The first thing you need to figure out is how many channels you need. For most solo home studio enthusiasts that are outsourcing session players, doing lots of instrument programming, and only recording themselves, two channels should work! That's enough to record stereo, and more than enough to record your voice. If you think you might be tracking drums, I would opt for at least 4 channels, ideally 8. Realistically most session drummers can track from home these days, so the need to have drummers come to you isn't there like it used to be. This is much more cost effective anyhow, because you don't need a setup that can track drums (mics, pre's, etc.) and you don't need to pay for travel.
Once you have decided how many channels you need, choose what kind of connection works best for your computer (USB or Thunderbolt). There are SO many options for an audio interface these days. For something really solid that will work well, and give you good sounding preamps at a great price I would recommend Focusrite or Presonus.
KEYS
This might not be necessary for everyone but having a decent midi keyboard will really help with programming and creating sounds in your DAW. If you know how to play, you should really be incorporating a midi keyboard into your system, as it can make creating demos and adding other instrumentation a breeze!
When looking at keyboards, the options are endless. You can get weighted, semi weighted, or non weighted keys. They range from tiny desktop keyboards, all the way up to a full 88 key piano style board. I like semi weighted keys, and around the 49 or 61 key mark. Midi keyboards will usually have other knobs, pads, and controllers to control effects and sounds in your DAW. The price points are all over the place, so do some research and choose what will work best for you!
HEARING YOUR PRODUCTION
So now we need a way to listen to all of the amazing elements you have brought together to create your song! Depending on your living situation (apartment or condo) having a huge set of studio monitors might not make much sense. There are two ways you can go about monitoring: Physical Speakers (Studio Monitors) or Headphones.
Studio Monitors:
There are so many budget friendly options available, there is no need to spend anymore than $400 for a pair of monitors.  For producing demos, a 5" or 7" set is plenty enough. Once again, do your research and choose what is best for you. Some great brands to check out would be Adam Audio, Yamaha, PreSonus, or KRK. 
Studio Phones:
Once again, no need to break the bank here. There are plenty of budget friendly options on the market. You will need a set of phones anyway for when you are recording vocals and acoustic instruments, so you might as well buy something decent that you can mix with. Spending around $100-$150 can get you a really nice set of headphones. Check out brands like Audio Technica and Sennheiser.
What is best?
Honestly? Both. I use my phones and monitors quite equally. Depending on what time of day it is, headphones might be needed if I'm working late. When working with other musicians, it's always nice to have a good set of speakers to playback the mix for everyone. I enjoy mixing from my monitors best, but having a good set of headphones for reference every now and again makes mix revisions less frequent as I can do some quick checks from my desk. Even if you are in an apartment or condo, having a small set of speakers can be a nice break from wearing cans on your head for hours!
PLUGGING IT ALL IN
Depending on what you all decided to purchase, make sure you have enough stands and cables for everything you might be needed! Online retailers usually have stand and cable packages that can help keep the budget down. There is no need to buy gold plated connectors and $100 cables. The $20 ones will sound just as good, and you won't cringe when you roll over them with an office chair! 
TIME TO MAKE MUSIC!
Okay! I tried to keep that as short and sweet as possible. Studio setup is a huge topic, but if you are a first time home enthusiast I hope this helped take some stress away and gave you some direction!
If you'd like to work with our team on your next recording – CONTACT US!
If you have any questions about home recording, leave them in the comments!!
Below Are Some Products We Recommend!
Here are some value packed bundles!